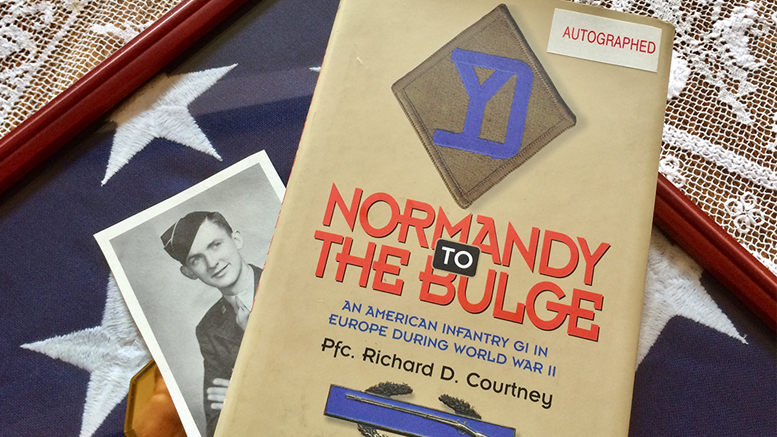 Tales of a teenager at war – Muncie Journal
By John Carlson –
Dick Courtney was a man of great stature, not only physically, but also measured by kindness, kindness and humor.
It is a rare combination.
I met Courtney years ago, following the publication of her book "Normandy in the Ardennes: An American Infantry GI in Europe During World War II".
Being a guy who sometimes hangs out with writers, I had met a few war veterans of the greatest generation here who had also written war memoirs. There was John F. Ireland, whose beautiful book was called "My Story". There was also my friend and former newspaper colleague Dick Stodghill, a writer with a large number of columns and published mystery short stories, both in pulps and hardcover books, to his credit. He wrote "Normandy 1944: the war of a young rifleman".
But while Courtney had some literary leanings, he was seventy before he went through the grueling process of publishing his memoirs, which were published by Southern Illinois University Press in 1997. At best, it had been a long shot for success, publishers do not necessarily rush to publish old soldiers' books.
Danged if he didn't, however.
Upon meeting Courtney, a native of Pennsylvania who eventually founded the General Vending Service of Muncie, I enjoyed a number of encounters with him and his lovely wife, Connie. Key to those reunions, besides the laughs, was his story of spending over two hundred days as a 19-year-old kid wearing a .45 Colt and a bazooka, risking his life to knock out Nazi tanks.
Which conjures up more of Courtney's attributes: courage, bravery, cojones… you name it.
Crossed by truck from Cherbourg, Courtney remembers seeing the ravages of war, as seen in the pages of Life magazine. "… Only this time it was real. We all pointed out the third floor tub that protruded into the air on its own, supported by the drain pipes since the lower two floors were all rubble in the cellar.
Soon would come the days, weeks and months spent in stiff uniforms of dirt, sweat, dust and shit, GI's heartfelt wish for a hot shower as unrealistic as wishing for a million dollars.
From another sight, he recalled: "All around us … there were destroyed German tanks, mortars, dead horses and cattle and a strange atmosphere of fog rising which made it seem like the moon landscape. Speaking of cattle, Courtney recalled that the IG cut steaks from the corpses of dead cows. No one knew when the animals were killed, he said, but "The steak was better than the C rations, so we ate them."
There were also, of course, an appalling number of dead soldiers. At one point, his unit found a squad of six Germans, their faces blackened and sprawled over their backs, dead. "The war seemed real now as we looked at their faces," Courtney wrote. "They were all about eighteen …"
As bad as it may be, the deaths of fellow GIs have been much more difficult.
He remembers crawling out of a fox hole he dug when an American tank rolled up and quickly exploded. "We had slept in a minefield and we didn't even know it!"
Some of his tragic tales were macabre irony. Courtney wrote about taking cover in a farmhouse outside which an American Sherman tank was hit. Climbing to the top, the GIs quickly pulled the tank's lone survivor out of the turret, transported him to the kitchen, and cut off a foot and ankle that hung from a single chain of flesh. Then the injured soldier asked Courtney if he would come back for a bag he had attached to the turret of his tank.
"I said, 'Dude, you don't know what you're asking.'"
"He said, 'Please, Mac, this is important to me.'"
Ignoring the advice of her own buddies, Courtney rushed over to the tank, grabbing the bag shortly before the armored vehicle exploded. Handing the bag over to the injured tank crew member, Courtney told the guy he was almost killed, and said he hoped what was inside that bag was important.
"Yeah it was," replied the kid who had just lost his footing. "I had my last pair of dry socks in there."
There was a time in the town of Eschdorf where Courtney walked into a wooden shed, just to see what was inside, and found dozens of frozen GIs, stacked like firewood.
"I quietly closed the hangar door," he said.
In addition to fierce fighting, looting was not lacking along the way. The GIs saw it as a reward, giving the Germans a taste of what they had imposed on the ravaged European continent. During this time, they came into contact with German civilians more and more often.
Courtney wrote how in Shleusingen he and his comrades freed a pen of French slaves and then took them to the Gasthaus for beers. The portly bartender at the tavern started to sulk when they made him serve the French, and when the barrel ran dry he pretended he had none left. "Larry Choiniere and I drew our .45s and shouted, 'Bringen mehr beer! '(bring more beer)…'
The result?
"… Fatso got the message."
Yet the brutality of the war has not abated. With her end near, Courtney was part of a troop movement catching up with German soldiers marshalling thousands of prisoners to the east. When they reached them, these countless prisoners in blue and white striped concentration camp uniforms were lying strafed on the ground.
"It was a sickening sight," Courtney wrote.
As the fighting progressed, the jaded GIs wondered how their war slogans had changed since they had been drafted or enlisted. What had been "the victory in '43!" turned into "Win the war in 44!" Now the best they could do was "stay alive in 45!" But the day came when they drove on the bank of the Danube.
"Finally," Courtney recalls, "we had no more German lands to conquer."
A longtime Catholic, he found that the war had deeply affected him religiously, strengthening his faith. He recalled how the words of a missal read at a mass on the battlefield struck a chord: "It struck me then! This is for real! 'It's my body! This is my blood! "
Later, with the Allied victory, Courtney and her comrades found themselves in Czechoslovakia, with the serenade of displaced Polish women carrying flowers and singing the Polish national anthem to them. The GIs clapped and applauded, then the Poles motioned for the men to sing the US national anthem for them.
"We all looked at each other," Courtney recalls. "Does anyone know the words of the Star Spangled Banner?"
None of these GIs, the ultimate American patriots, did.
"OK. Let's sing 'God Bless America'," Courtney said. "They won't know the difference. That's what we did, with great enthusiasm. The women had tears of joy in them. eyes, and soon us too.
Which reminds us that Monday is Memorial Day, a great time for fun and picnics, but also the most appropriate day to remember all the Americans who have served, especially those who died fighting. for our freedom.
As for my boyfriend Dick Courtney, he passed away at the age of 83 in 2009, joining this silent line of heroes from Boston and Lexington to Iraq and Afghanistan, starting American history.
---
John's Weekly Columns are sponsored by Beasley & Gilkison, Muncie's trusted lawyers for over 120 years.
About Beasley & Gilkison
We listen, analyze your particular situation and prepare an action plan that best suits your needs. Contact one of our attorneys to schedule a consultation, or for more information call 765-289-0661 or visit our Facebook page or website at beasleylaw.com.
---
Former columnist and longtime columnist for The Star Press in Muncie, Indiana, John Carlson is a storyteller who relentlessly appreciates the wonderful people of east central Indiana and the stories of their lives, whether funny, poignant. inspiring or all three. . John's columns appear on MuncieJournal.com every Friday.