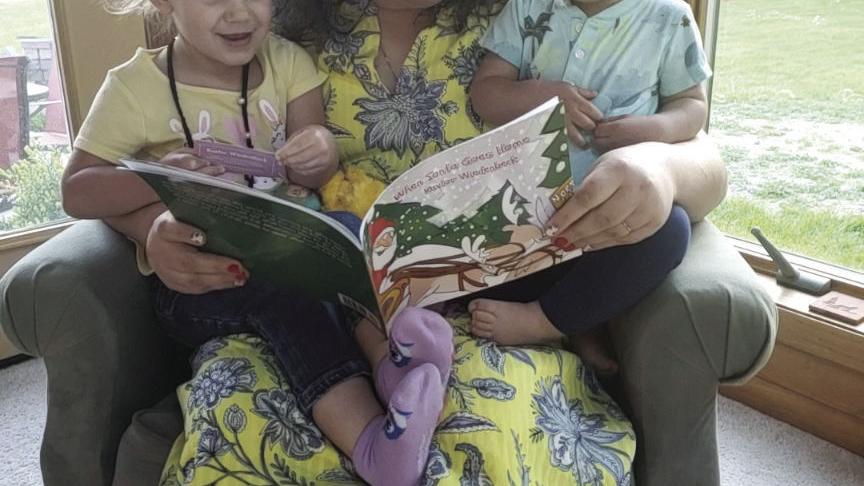 Pandemic leads Wiedenbeck to write and publish children's books | Community
Kids know how Santa Claus spends on December 24th, but what does the man in the red suit do after all the presents have been delivered? It's a question Kaylor Wiedenbeck's daughter Holly has asked frequently.
So the 27-year-old Waterloo resident decided to tell Holly a story. That story turned into "When Santa Goes Home," a little rhyming book for children under 100 words, which was released in March.
It was the pandemic that prompted Wiedenbeck, a 2011 Waterloo High School graduate, to write stories for her two children Holly and Shepherd.
"When the COVID-19 pandemic started, I was on maternity leave after working full time in finance. I had an 18 month old and newborn baby to entertain for several weeks while my husband (Mitchell) worked. We were bored. The weather was gloomy, our local library was temporarily closed, and we had read all of our books dozens of times. I needed new stories to tell, "she says. "So I started to write mine."
The Waterloo woman said "When Santa Goes Home" was written entirely for her children. The story introduces some of Santa's hobbies and bedtime snack time.
Wiedenbeck worked with Junior McLean from the East Coast, who illustrated the Christmas-themed book. The couple collaborated in the virtual creation of the colorful images. The 27-year-old said it was sometimes difficult to describe the type of images she wanted to accompany the text.
"I'm not an illustrator by any means, so I had an idea of ​​what I wanted this to look like, but I didn't know how to say, 'Use this tool on the editing software,'" he said. she declared. "In the end, I just wrote each line, then put a small paragraph below explaining what I wanted to show."
The decision to publish "When Santa Goes Home" came with encouragement from Wiedenbeck's mother, Kris Detert.
"She always told me that I'm a good writer and that I should keep going and I never really thought about it, but I thought it was a short story my kids love it I have to other people whose kids might like it, so it's not really going to hurt to put me there, "the writer said.
Wiedenbeck also received encouragement from her husband and a close friend, who even helped provide comments and make edits.
The Waterloo woman's second book, "I Love You More Than Burgers," was inspired by her husband and is now available for purchase online with copies soon to be available locally.
"He obviously loves our kids more than anything, but he doesn't show it the same way I do," Wiedenbeck said. "He doesn't say it 20 times a day and smother them with hugs and kisses like I do, but he shows it by building forts, letting them climb all over him, and a great thing is sharing his food. His favorite food is cheeseburgers, so when he offers them a bite to eat, I can see how much he loves them.
The writer wanted to publish a book on how dads show their love for their children after seeing many children's books focusing on how mothers show affection for their children.
"I love you more than cheese burgers" also has a little more humor and is double the word count of "When Santa Comes Home".
For this book, Wiedenbeck worked with Kellen Roggenbuck, an artist based in Jefferson.
"I'm really happy to have his help because I'm still new to this area – I don't know what I'm doing," she said.
Wiedenbeck did not expect that the story she told her children would lead to becoming a published writer; she just thought she was jotting down stories to keep the couple entertained for the long period of time at home due to the pandemic.
She had always loved writing short stories in her English classes, but she had never seen a career outside of creative writing.
"I'm a very practical person, so I wanted to find a job right out of college to make sure I didn't have to worry about trying to find something, so I decided to go for it. business instead, "said the Carroll University graduate. "I like numbers too, so I was always torn between numbers and words."
With two books published, Wiedenbeck is giving himself a little more time to explore writing.
"I thought it was a good compromise – I can do numbers (at full time work) during the day and words with my kids at night and on weekends," she said. "I'm glad I decided to continue writing and grateful for all the support."