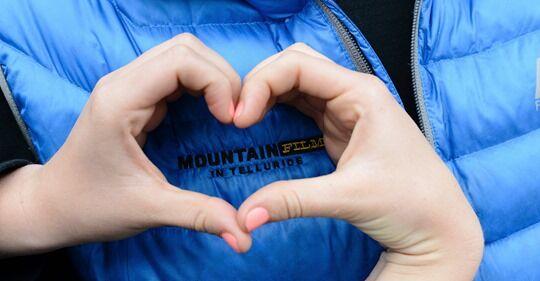 Memorial Day Events | New
Memorial Day, the annual celebration of those who have lost their lives in the line of military duty, is a time when many come together and honor the dead in their own way.
Here in Telluride, the Austin Hiett American Legion Post # 12 holds a flag raising ceremony at Lone Tree Cemetery every May 31. This year it takes place at 11 a.m. and a barbecue will follow immediately. Veterans interested in attending the ceremony or joining the American Legion should contact Post Commander Brian Ahern at 970-708-1596. The ceremony and barbecue are free and everyone is welcome.
Another holiday event unique to Telluride is the Mountainfilm Festival, which expanded its offerings in person after local capacity limits were recently removed, and there's still plenty going on over the next couple of days.
Sunday and Monday there is a full range of free and paid movie screenings and events at the Palm Theater, Transfer Warehouse, Lawson Hill Fields, High Camp at the Telluride Conference Center in Mountain Village and at the Base Camp in Telluride. Town Park. Tickets must be reserved in advance online at mountainfilm.org for screenings at The Palm, High Camp and Transfer Warehouse. The festival moves to an online format after Memorial Day, ending June 6.
One such Sunday event, a discussion titled "The Evolution of Epic Adventure" at the Transfer Warehouse, will bring together world-class explorers to examine how "Adventure" has changed over the years.
"A lot has changed since the 80s, even in the adventure world. At the time, the subjects of "Godspeed, Los Polacos!" skillfully navigated the Soviet system for the adventure of a lifetime – a daring kayaking expedition through the Americas with homemade gear and little to no whitewater skills. Fast forward to today, with expedition kayaker Scott Lindgren's 20-year quest to become the first person to paddle the four great rivers that flow from the Holy Mountain of Tibet. Kailash – a journey documented in "The River Runner". These topics will be joined by filmmaker and adventurer Renan Ozturk and the subject of After Antarctica, famous arctic explorer and conservationist Will Steger, "according to the Mountainfilm website. "Dozens of years apart, the subjects of these films all share a love of adventure and a certain level of resilience and determination. But how, exactly, has the meaning of the word "adventure" changed over the years? "
If you're up for an adventure of your own Sunday, Hilaree Nelson, this year's guest festival director and local from Telluride, is hosting a hike from 11 am to 12:30 pm The free event has a capacity limit, and guests will be able to participate on a first come, first served basis. And not only will you be able to hang out and hike with one of the best big mountain athletes in the world right now, but the Colorado singer-songwriter will put on an intimate show as well. The hike begins at Elks Park.
Friday afternoon at press time there were a handful of screenings to be announced in the Monday schedule, so check the website for the latest news, but there is another speakers event on Monday morning at the transfer warehouse, "Learning to coexist".
There will be two presentations. The morning segment will feature Dr. Mark Nelson, who was one of eight people originally selected to live and sustain life in the fully enclosed Biosphere 2, a business that was featured in the movie "Spaceship Earth," which premiered at Mountainfilm this year. . Nelson draws on his areas of expertise – research into closed ecological systems, sustaining life in the bioregenerative space, ecological engineering, restoring damaged ecosystems, desert agriculture, and recycling wastewater – while sharing lessons. taken from Biosphere 2 which are relevant to the challenges facing the Earth today.
In addition, Nelson, who is President of the Institute for Environmental Engineering and Director of Wastewater Gardens International, will share findings from the second edition of his book "Life Under Glass: Crucial Lessons in Planetary Stewardship". A book signing will follow.
The second presentation, "Couple Therapy with Rivals," features the music group The Rivals, made up of Dr Julie Holland and Jeremy Wolff, a married couple who use music and performance to keep their relationship together. Holland is a psychiatrist specializing in psychopharmacology, while Wolff is a travel writer and photographer. Each brings their own perspective to the relationship – scientific and artistic, yin and yang – resulting from both division and cohesion.
"The duo explore the complexity of relationships in this workshop for couples, partners, friends and family that uses The Rivals' unique infotainment approach. Music and performance become the meeting place for Holland and Wolff to explore and confront fundamental differences and provide audiences with a therapeutic experience that evokes ideas and is based on music, "according to the website.
On Monday evening, the winners for Best Documentary Film and Best Charlie Fowler Adventure Film will be announced at 7:30 p.m. at the Palm.
For a full list of events, visit mountainfilm.org. COVID-19 protocols, including the wearing of face masks in some cases, can also be found online.
While it's nice to get out and do something, it's also nice to meet up with good friends and family and enjoy each other's company, especially if everyone is fully immunized. It's been 15 months. Enjoy the holidays responsibly.